This page: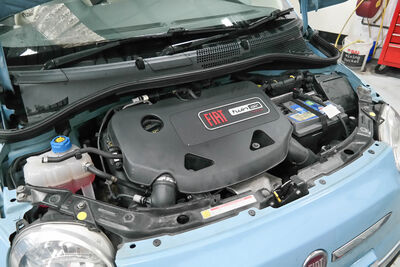 Replacing The Oil And Oil Filter On A Fiat 500 0.9 (Twin air) Turbo

To access the oil filter it may make it easier to remove the engine cover first.
This 'How to' is based on the 85hp model.

SELENIA Digitek Pure Energy 0W-30 (fully synthetic) engine oil 14113701
Oil filter 55224598
Sump washer 10261060

WORKSHOP TIME 30mins





If you would like to BOOK yourself in the price of this service in our workshop is £97.70


Unclip the turbo induction pipe.

Undo the x2 M10 bolts to the engine cover.

Pull the lug from the grommet on the air intake pipe and remove the engine cover/air filter housing (give it a tug as there's a rubber grommet at the rear of the cover).

Facing the engine the oil filter housing is down at the top right corner of the engine. The housing cap is 24mm.

Extract the housing cap and the old oil filter.

Remove the old oil filter and seal...

....and replace with new ones. Screw the housing cap back in and refit the engine cover/air filter housing.

Undo the x6 10mm bolts to remove the undertray.

The sump plug is 17mm.

Drain the engine oil into a suitable container.

Replace the sump plug washer and do the sump plug back up.
Refit the undertray.


Unscrew the engine filler cap...

...and pour in the recommended engine oil (Fiat quote 3.2 litres).

Screw the filler cap back on and start the engine briefly to circulate the oil.

Remove the dipstick, wipe it, put it back in then remove again to check the oil level and top up if needed.
Related Links: Servicing